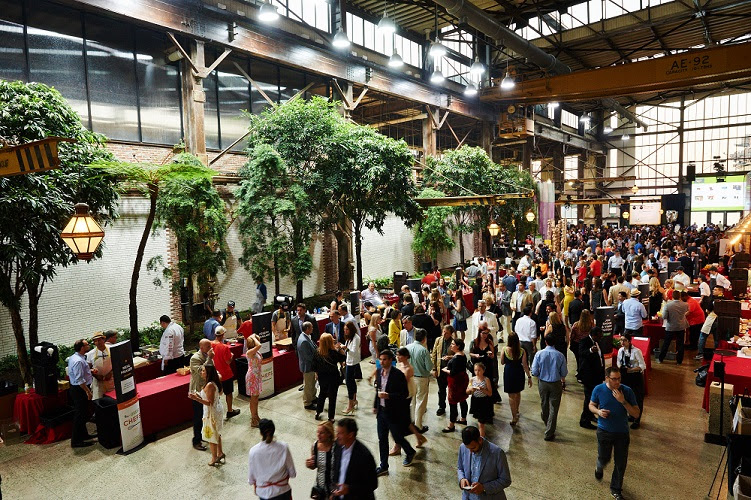 This is the 12th year for the Great Chefs Event – Philadelphia's premier culinary event that has raised millions of dollars to support Alex's Lemonade Stand Foundation and Vetri Community Partnership.
Everyone knows it's a nice summer evening with delicious food for two great causes. But did you know some of these interesting facts about the event?
Last year, eight 2016 James Beard Foundation Awards finalists participated. This year six 2017 semi-finalists are participating at The Great Chefs Event. Winners are announced on May 1st – sample dishes for the best chefs and restaurants in the world!
6,347 is the average number of steps taken during the event. The event is held in the beautiful and eclectic Urban Outfitters headquarters at the Philadelphia Navy Yard. At 85′ wide and 400′ long, the space comfortably fits the chefs, vintners, breweries and attendees.
$35,000 is the highest amount a live auction item has sold for. It happened in 2012 for a trip to Italy with Marc Vetri and Jeff Michaud. The live auction at The Great Chefs Event is not to be missed! Unique experiences such as culinary trips, unforgettable experiences and world-renown chefs cooking in your kitchen are some of the amazing items that you could win.
You will never eat dessert the same way again. While many of the food samplings at The Great Chefs Event are savory, there are plenty of options to satisfy your sweet tooth. From Charm City Cakes – whose boundary-pushing cakes have been to presidential inaugurations – to Big Gay Ice Cream serving up boozy milkshakes, you'll never want just plain vanilla again.
Over 1,200 pounds of mortadella has been served at the After Party! For the last 6 years, the Vetri crew has cooked the Italian sausage in a beer and water bath for two days. Last year the sausage was 335 lbs and needed to be forklifted into Victory Brewing's fermentation tank. Maybe this is the year the sausage can get into the Guinness Book of World Records? After Party access tickets are available for purchase and features additional bites from BBQ master Adam Perry Lang, Adam Arrison and Philly favorites Michael Solomonov and Jose Garces.
The Great Chefs Event has inspired other culinary events around the country! Because The Great Chefs Event delivers an amazing experience and raises so much money, other chefs around the country have used the foundation that Marc Vetri, Jeff Benjamin and Jeff Michaud have built to create their own events in Los Angeles, New York City and Chicago, all benefiting ALSF.
The first Great Chefs Event had only eight local chefs and 100 guests. That was in 2006. Fast forward 10 years, last year The Great Chefs Event had over 40 chefs and 1,000 guests. But here is the best part…
Over $730,000 was raised in 2016. That's the equivalent of over 3,500 students getting healthy lunches for a year through the Vetri Community Partnership and almost an entire month of childhood cancer research funded through Alex's Lemonade Stand Foundation.
Now that you're an insider, get your tickets before they sell out!