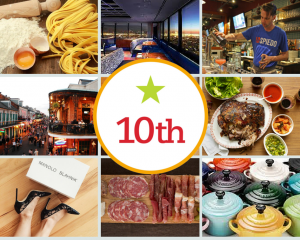 Extravagant dinners, behind-the-scenes industry tours, and culinary experiences are the keystone of the 10th annual Great Chefs Event auction. Proceeds benefit Alex's Lemonade Stand Foundation and the Vetri Foundation for Children.
Philadelphia, PA (May 27, 2015) — The 10th annual Great Chefs Event auction is now open and available for bid. Bids will be accepted online now through Tuesday, June 9, the night of the Great Chefs Event. All auction items, with the exception of live auction items to be bid on at the event, are available online here. More items will be added daily. You do not need to be present to bid on or win Great Chefs Event auction items. All auction proceeds benefit Alex's Lemonade Stand Foundation and the Vetri Foundation for Children.
As always, the auction features one-of-a-kind culinary experiences with award-winning chefs all over the country, as well as Vetri Family Restaurant's very own chefs and staff.

Live auction items will include:
(You must be in attendance to bid on these live items, or call our office (215-600-2630) and we will assign someone to bid in your stead):
Four-day culinary tour for 6 of Northern Italy led by Marc Vetri and other chefs.
A wood-burning pizza oven (just like the one at Pizzeria Vetri) for your backyard donated by Renato Riccio, the founder and owner of Renato Ovens, Inc. The winning bid includes installation and a pizza party for 25 in your backyard featuring Vetri Family Restaurant
Chef Brad Spence Chef Jeff Michaud – for the past two years, these two friends and Vetri Family chefs have gone head to head in a silent auction competition – each offering a chef-made dinner in home. Spence is undefeated so far. This year, we bring the competition to the live auction:

Chef Brad Spence (Amis) has brought back his "Beast of Amis" in-home dinner for 10. You pick the beast, Brad and his team prepare a four-course menu including wine pairings.
Chef Jeff Michaud (Osteria) is offering the ultimate family dining experience – an authentic Bergamascan feast for 10 in his home (or yours) with special guest chef, Mama Pina, his mother-in-law who will be visiting from Bergamo, Italy.
Silent Auction Items include:
Dinner for six at the kitchen counter of Amis with Chef Brad Spence and MasterChef Junior runner-up Andrew Zappley, a 7th grader at Holy Trinity Regional School in southern New Jersey.
Football Weekend in Charlotte, NC for 6, including hotel arrangements, brunch and dinner at Fahrenheit, and Eagles vs. Panthers game with Chef Rocco Whalen.
Pasta-making class and dinner for 10 with Chef Brad Daniels at Osteria.
Culinary weekend for two in New Orleans, including airfare and meals at Luke, Borgne, Johnny Sanchez, August, Domenica and Shaya. Donated by the Besh Restaurant Group.
Behind-the-scenes wine class and tasting for 6 with Vetri Ristorante sommelier Bobby Domenick in the private dining room.
Chef inspired getaways to New York, Los Angeles, Phoenix, and Boston, plus top Philadelphia dining packages.
Fabulous made-to-measure suits and fashion items from Zegna, Isaia, Canali and more.
Getaway to Miami with a stay at the Ritz-Carlton Biscayne Bay and dinners at the restaurants of our participating chefs.
Concerts by Billy Joel, Zac Brown Band and more.
A limited number of tickets to the 10th annual Great Chefs Event are still available at https://vetrifoundation.ticketbud.com/the-great-chefs-event-2015. More information about the event can be found at https://vetricommunity.org/2015-great-chefs-event-information/. Please contact the Vetri Foundation for Children at 215-600-2630 for more information.