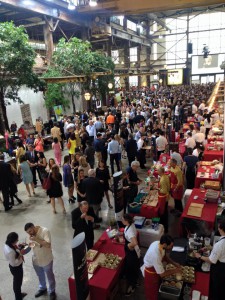 Philadelphia, PA (June 10, 2015) — The 10th annual Great Chefs Event was another huge success for the Vetri Family and Vetri Foundation.
Key highlights of the evening:
• 1200+ guests in attendance
• 250+ volunteers
• Once again, we exceeded our fundraising goals – more than $800,000 raised for Alex's Lemonade Stand Foundation & the Vetri Foundation for Children.
• Some of the most popular dishes of the night included Charles Phan's gau choy gau (shrimp & watercress dumpling), Masaharu Morimoto's hamachi, soba & black barley, corn, pickled red onion & miso, and Nancy Silverton + Dahlia Narvaez's butterscotch budino with rosemary pine nut cookies.
• The event was hosted by 6ABC's Alicia Vitarelli and Marc Summers.
• Among the featured speeches were those by Vetri Family Restaurants and Vetri Foundation Co-founder Jeff Benjamin and Liz Scott, Co-Executive Director of Alex's Lemonade Stand Foundation. They each thanked the event's sponsors and participating chefs for their support and spoke about how the money raised goes toward programs that change the lives of the children they serve.
Live Auction highlights:
• $72,000 raised
• Culinary tour of Northern Italy for 6 led by Marc Vetri and Jeff Michaud went for $21,000.
• The latest in the Great Chefs Event auction rivalry between Vetri Family chefs Brad Spence and Jeff Michaud: The winning bid for Brad Spence's "Beast of Amis" in-home dinner for 10 was $14,000. Jeff Michaud's Bergamascan feast featuring his mother-in-law, Mama Pina, sold twice for $10,000. Debates about who won this round are ongoing…
Silent Auction Highlights:
• A few fabulous items sold well into the thousands, including:
o Weekend in Charlotte, NC with Chef Rocco Whalen, including breakfast and dinner at Fahrenheit, as well as tickets to the Eagles vs. Panthers game.
o A weekend in New Orleans for 2 featuring breakfast at Luke, lunches at both Borgne and Johnny Sanchez, and dinners at August, Domenica & Shaya, all Besh Restaurant Group restaurants.
• Overall, the silent auction totaled nearly $100,000.
After Party Highlights:
• This year's after party was held as Lo Spiedo. DJ Questlove kept the party going well into the night for chefs, volunteers and sponsors.
• The after party featured smoked brisket from Adam Perry Lang (Serious Barbeque) served with Texas toast and spicy pickles. Out-of-town guests were treated to a little "taste of Philly" with cheesesteaks from Pat's Steaks and Tony Luke's, and Little Baby's Ice Cream.
More about the 10th annual Great Chefs Event:
Great Chefs Event raises $800,000
Restaurant selfies: As seen at the Great Chefs Event
Marc Vetri Hosts Annual Great Chefs Event at Navy Yard