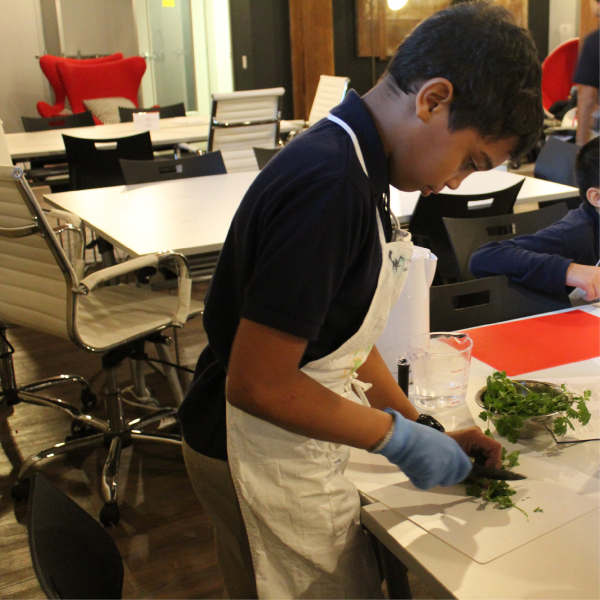 We love getting feedback from the students and families who participate in our programs.
All of our programs strive to give kids the knowledge they need to be educated food consumers who can make decisions about their own health, so we couldn't be more excited by this note from a mother of a student who participated in Vetri Cooking Lab at CHOP's Healthy Weight Clinic:
I am blown away by how much she has taken in. She decided to make popcorn as a healthy snack, with no butter and adding garlic powder, Parmesan cheese or any other seasonings she feels like. This last class was the flat bread and dips, which were all delicious. In the car on the way home, [Name retracted] announced to me that the ranch dressing I have been putting in her lunch with her veggies is not very good for her — that we should make our own.  I asked "How? Do I use sour cream?"  She told me no, just get some Greek yogurt, dill, scallions and maybe some garlic powder and mix it together. She would like me to make this for her lunch snack instead of the kind I buy at the store.
I feel like having these really fun teachers in a kitchen with a bunch of kids has really empowered her to make smart choices on her own. [It's] not her Mom telling her something is better for her — she is now telling me what is better. It has made making these choices not something she has to do, but something she wants to do. She wants to eat food that she knows what all the ingredients are, not stuff with words she cannot read in it and the stuff she has been making is so much tastier!! The teachers have done a great job!! We really appreciate having this opportunity!
We look forward to helping more kids, not only eat healthier today, but also go on to become healthy and empowered adults who can pass nutritional eating habits on to their own children!