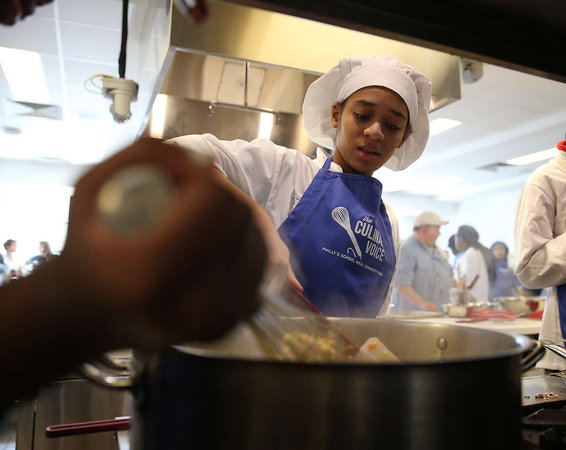 Originally published on Philly.com by Samantha Melamed
Maybe it was the squad of cheerleaders they brought with them, chanting, "Burrito! Burrito!" Or maybe it was their sweet-and-savory recipe for apple, cheddar, and sausage breakfast burritos, giving new life to those presliced apple snack packs kids normally tend to reject in the cafeteria.
Either way, for the second year running, culinary arts students from A. Philip Randolph Career and Technical High School were victorious in the Culinary Voice. The annual competition, organized by the School District of Philadelphia and the city Department of Public Health's "Get Healthy Philly" initiative, challenges district culinary students to develop nutritious and appealing recipes for school cafeterias.
Randolph's winning recipe, cooked up by a team of students at the Free Library's Culinary Literacy Center on Thursday morning, will appear on the menu at all 86 of the district's full-service cafeterias.
"This year, they are really interested in increasing breakfast participation, particularly now that breakfast and lunch are free throughout the district, and many more kids participate in lunch than breakfast," said Mica Root, a Get Healthy Philly program associate. "We want to make sure they're starting their day nourished and ready to learn."
The district is serving about 60,000 breakfasts a day, compared with 90,000 lunches. That means about half of students are skipping school breakfast.
Students received a list of available ingredients, and the federal guidelines, including requirements that each meal contain servings of various components, such as whole grain, protein and fruit or vegetable.
"They really came face-to-face with the reality that school food-service workers face very day," Root said.
Murrell Dobbins students offered a healthy option: a vegetable scramble with cheese in a wrap, using frozen broccoli, peppers, onions, and mushrooms.
"Our focus was on health and the reality of food services actually being able to do this," Dobbins culinary teacher Penny Greenberg said.
Ikea Jasper and Emily Martes, seniors at Swenson Arts and Technology High School, put forward a sausage-and-caramelized-banana sandwich on a croissant, inspired by a favorite childhood meal of Jasper's. It impressed the panel of judges, which included students, food service staff, and chefs Elijah Milligan and Marc Vetri.
"I've had a restaurant for 17 years now, and I learned something this afternoon," Vetri said: "Sausage, when you eat it with bananas, it's really good."
Jasper and Martes said they saw participating as a line on their resumés – and also a way to improve their own morning meals.
"We can put out a good breakfast for once," Martes said.
Jasper agreed: "Sometimes it's really gross," she said, citing cold breakfast sandwiches and yogurt parfaits laced with mushy fruit. "That's one reason we wanted to do this."
Still, Wayne Grasela, senior vice president of food services for the School District, said offerings have improved drastically.
In the last three years, 37 limited-capacity cafeterias have been converted to full-service kitchens; 13 more will be converted over the next year, he said.
But he acknowledged challenges around food costs, staffing, and federal nutrition guidelines.
The district is reimbursed $2 for each breakfast it sells, and $3 per lunch.
Those funds must cover not just ingredients, but also equipment and staff.
Grasela said the district is still aiming to better serve students, which is one reason the Culinary Voice is valuable. He's also planning to run social media surveys in March to get even more feedback.
"Students are our customers," he said, "and to have them provide input on what we're serving in the school is outstanding."
See the article at http://articles.philly.com/2015-02-28/news/59589656_1_school-breakfast-breakfast-participation-wayne-grasela