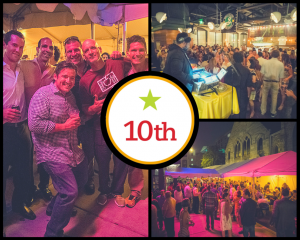 Philadelphia, PA (May 4, 2015) – The Vetri Foundation for Children is pleased to announce that Grammy Award winning musician, DJ, and culinary entrepreneur, Questlove, will join us as the official DJ for the Great Chefs Event After Party presented by The Navy Yard and Liberty Property Trust. The After Party will take place on Tuesday, June 9 from 9:30 p.m. to 2 a.m., immediately following the 10th Annual Great Chefs Event, outdoors at Lo Spiedo, Marc Vetri's newest restaurant, located in Philadelphia's Navy Yard.
DJ Questlove's appearance at the Great Chefs Event After Party illustrates the Philadelphia native's support for the charities behind the event — Alex's Lemonade Stand Foundation and The Vetri Foundation for Children. This will be the fourth time in five years attendees will get to hear him spin for the exclusive event.
The After Party is an annual tradition for participating chefs, sponsors, volunteers, and after party ticketholders to relax and have fun in an atmosphere usually reserved for industry insiders. The festivities are a way for the Vetri Foundation for Children and Alex's Lemonade Stand Foundation to thank everyone who makes the Great Chefs Event a continued success.
In addition to DJ Questlove's performance, the After Party will feature great food and drink. After party attendees will get exclusive late-night bites from Pat's King of Steaks, Tony Lukes, Little Baby's Ice Cream, and acclaimed barbecue chef Adam Perry Lang (author of Serious Barbecue, BBQ25, and Charred & Scruffed). Beverages will be provided by Boulevard Brewing Co., Brooklyn Brewery, Laird and Company, Muller Beverage, Philadelphia Distilling, Tito's Handmade Vodka, Victory Brewing Co., and Yards Brewing Co. Tito's Handmade Vodka will be parking its branded vintage 1965 Airstream trailer at the event, which will serve as a lounge featuring signature cocktails made with Tito's Handmade Vodka.
Chef Brad Spence, executive chef and co-owner of Amis, will continue the annual Vetri tradition of presenting an epic mortadella at the event. In collaboration with Victory Brewing Co., Spence will prepare a 230 lb. mortadella (up from 210 lbs. last year!), stuffed into a natural casing, and cooked in a fermenting cask for 24 hours at the brewery. The giant mortadella will be transported to Lo Spiedo for the after party and served carved to order with mayo and hot pepper relish.
Food sponsors include Debragga, Julius Silvert, and Niman Ranch. The Navy Yard and Starr Restaurants are the official After Party sponsors.
Access to the after-party is limited to sponsors and After Party Access ticket holders. Only 100 After Party Access tickets are available, with about a quarter of those already sold. After Party Access tickets include entrance to the Great Chefs Event and can be purchased for $525 each through www.vetricommunity.org
Sponsorship opportunities begin at $1,000 and include access to the after party. For information on how to become a sponsor, contact Genevieve Lynch at the Vetri Foundation for Children, (215-600-2630), genevieve@vetricommunity.org.
Sponsors for 10th annual Great Chefs Event include Emerson Group, Urban Outfitters Inc., Northwestern Mutual, Cashman & Associates, Advanced Staging Productions, Color Reflections, Ten Speed Press, 452 Design, Aramark, Creekstone Farms, Joss Realty, David Stout & Martine Lamoureux, Macerich, PREIT, Vibrant Development Group LLC,  Drs. Benjamin & Jordana Cooperberg, Pearl Properties, The Navy Yard, Starr Restaurants, Courtyard by Marriott, All-Clad, Alterra Property Group LLC, Jessica Berwind, The Brown Family and NFI Industries, CHOP – Department of Pediatrics, Independence Blue Cross, Curt & Susan Parnes, Rock-It Cargo, AlliedBarton Security, Andrea Biondo & Ken Hartzell, Bill & Mary Alice Dankulich, Dan & Kathy Dugan, Drexel University Center for Hospitality and Sports Management, Garrett Snider, Jeff Warden & Heather Chalmers, Ralph & Natalie Hirshorn, Judd & Andrea Tirnaur, Cozen O'Connor, M&T Bank, Michael Gruber Designs, Paperless Solutions Inc., Philadelphia Eagles, RowZone Indoor Rowing & Fitness Studio, SAFARI Montage, Melissa & Daniel Tasse, Maripeg Bruder, Michael Gruber Designs, Chip & Phyllis Marshal, Tierney, DA Risa Vetri Ferman and Michael Ferman.