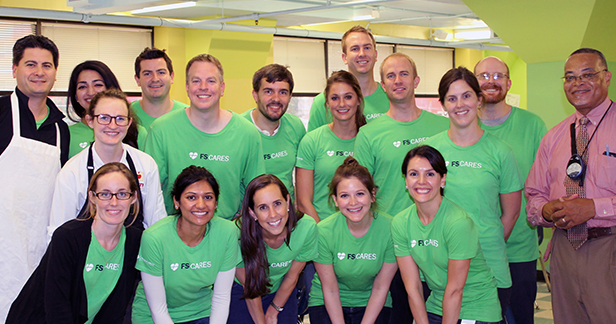 The Franklin Square Foundation, the charitable arm of Franklin Square Capital Partners, announced today that it will partner with the Vetri Foundation, an organization founded by Philadelphia restaurateurs Marc Vetri and Jeff Benjamin that promotes healthy eating in Philadelphia schools. The announcement took place at People for People, a North Philadelphia charter school and Vetri Foundation partner.
Through the announced partnership, Franklin Square will provide the Vetri Foundation annual financial support as well as a commitment of employee volunteer work in support of the Vetri Foundation's marquee program, "Eatiquette." The Eatiquette program engages students in healthy, family-style lunches, a significant upgrade over traditional cafeteria experiences.
In addition to the announcement, a group of 17 Franklin Square employees participated in the inaugural Eatiquette / Franklin Square event.
"I was excited to learn about our partnership with Vetri," said Lauren McNamee, a due diligence analyst at Franklin Square. "Today was a very meaningful experience and I look forward to our continued involvement."
Franklin Square recently unveiled its Foundation, which includes employee service initiatives and a charitable giving matching program for all employees. "We place great emphasis on civic engagement, as well as healthy eating and lifestyles, for our employees at Franklin Square," said Chairman and CEO Michael Forman, who serves as chair of the Vetri Foundation board of directors. "This program and the partnership with the Vetri Foundation are natural fits."
"Michael has provided our board and organization with incredible leadership, helping us reach thousands of Philadelphia children," said Marc Vetri. "We are thankful for his and Franklin Square's support."
For more information about Franklin Square Capital Partners and the Franklin Square Foundation, visit franklinsquare.com.