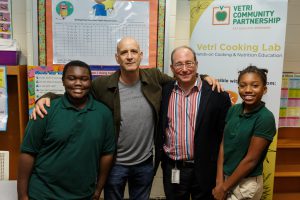 How do you encourage kids to eat more healthy food? By teaching them to cook tasty, nutritious, kid-friendly recipes with ingredients they can find in their own neighborhoods. Today, GSK announced a $440,000 grant to Vetri Community Partnership to expand their Vetri Cooking Lab program to 30 after-school sites across Philadelphia and Camden. This program will reach 1,200 students over the next two years with a 10-week, hands-on cooking and nutrition curriculum.
"GSK is proud to support the Vetri Cooking Lab after-school program for local students," said Daniel Troy, Senior Vice President and General Counsel, GSK. "The Vetri Community Partnership team has already shown that their innovative approach teaches young people to make healthier eating choices, and we can't wait for Vetri Cooking Lab to reach another 1,200 students over the next two years."
Last year, GSK funded a pilot of Vetri Cooking Lab, reaching 343 students with 480 hours of nutrition education, after which students reported that they were cooking on their own, using nutritional labels to make eating choices and able to find healthy food in their own neighborhoods. Support for Vetri Cooking Lab is part of GSK's long-standing commitment to build healthy communities across the world and in the US, including Greater Philadelphia where the company employs nearly 5,000 people.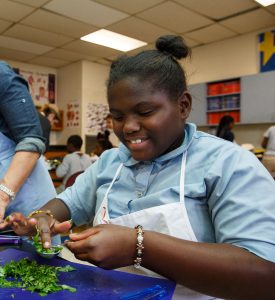 "Engaging kids in the process of cooking and eating fresh, healthy food is a powerful way to teach them about nutrition, the food system and their own health and wellness," said Marc Vetri, founder of Vetri Community Partnership. "In Vetri Cooking Lab, we're doing that while also connecting the preparation of the recipe to all of the science, math and reading concepts they're learning during the school day."
Vetri Cooking Lab builds on Philadelphia's success to drive down obesity rates among young people, as well as ongoing efforts to expand high-quality out-of-school time programming for students. Every after-school site that participated in the pilot is running Vetri Cooking Lab again this school year, and dozens more are eager to start the popular program for their own students.
"The program is having a noticeable impact. Students are thinking more critically about their food choices – choosing whole foods over processed foods – and taking their recipes home to their parents and preparing the dishes with their families," said Marlene Olshan, CEO of Vetri Community Partnership. "We are grateful to GSK for their generous support and look forward to partnering with them to improve the health outcomes for our region's children."