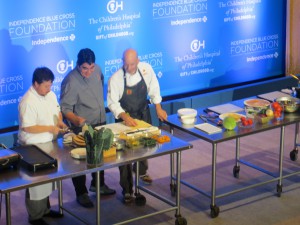 When Jose Garces and Marc Vetri faced off at the Healthy Futures: A Recipe for Childhood Wellness conference on Monday, they both knew they were in for a tough competition. Plus, the fate of the competition would be in the small hands of five 5th-grade students from IBX Foundation partner schools throughout the Greater Philadelphia area.
After quickly preparing their dishes in front of the panel, the chefs each got a peek at what their competitor had been working on. Marc decided to do something that was decidedly in Jose's wheelhouse — tilapia fish tacos with cabbage salad — while Jose highlighted seasonal ingredients in his winter squash quesadilla creation. 

Marc presented his tacos first and was met with approving nods from the judges. They took thoughtful bites and considered all of the different flavors. One discerning judge said, "I don't usually like spicy, but this is good."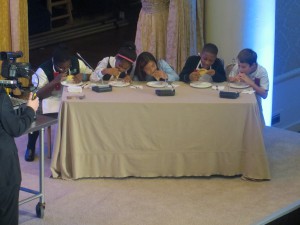 When Jose put the plates of quesadillas down in front of the judges, they took a sip of water to cleanse their palates before digging in. From the looks on their faces, it was obvious this dish was another success.
Now it was time for the judges to deliberate and vote. The result? Three hands raised for fish tacos, two for the quesadilla. It was close, but Vetri pulled another victory.
Impressed by Jose's dish and given how close the votes were, Marc announced he would incorporate the winter squash quesadilla into the already-stellar Eatiquette lunch menu.