As a teacher it's not always easy encouraging your students to eat healthy. Most kids would prefer to snack on a candy bar rather than a healthy vegetable. But being a teacher comes the responsibility to be a role mo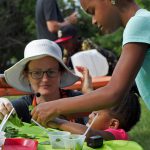 del for your students. Implementing routines in the classroom to promote healthy eating and living can have a significant impact on your students well-being. Here are some healthy ideas to practice with your students
WHAT YOU CAN START DOING RIGHT AWAY

Model healthy behavior in the classroom – drink water, eat fresh fruits and vegetables as snacks, etc.
Encourage students to think critically about how food makes them feel – how does eating apples, bananas or almonds compare to eating fries and a milkshake?
Sit with students in the cafeteria and encourage them to try new things. Ask questions about their meal – how does it taste, who made it for them, what do they like best?
Ask students about their favorite foods and what they like to eat outside of school. Make suggestions to stimulate curiosity about new and nutritious fruits and vegetables.
Encourage students to offer to help in the kitchen if their family cooks at home – whether it's doing dishes or peeling carrots.
WHAT YOU CAN DO WITH A LITTLE PLANNING
Start an after-school cooking club or global cuisines club
Incorporate nutritious foods into classroom celebrations or substitute healthier options for school bake sales – fresh fruit skewers, zucchini bread, etc.
With help from motivated students, advocate for healthier options in the cafeteria
Invite local chefs, farmers and other food industry professionals to talk to students on career day
Plan a "field trip" for your students to visit your school kitchen and speak with the individuals who ensure there's food for students each day
Use whole fruits and vegetables to teach science or biology lessons – for example, to show the parts of a plant, vegetable families, etc.
Teach a lesson on junk food marketing and how it targets school-age children – have students develop and draw their own healthy food mascots
Use food as a creative writing prompt – describe your favorite food, write instructions to preparing a recipe, review your favorite restaurant, etc.
HELPFUL RESOURCES FOR HEALTHY SCHOOLS & CLASSROOMS