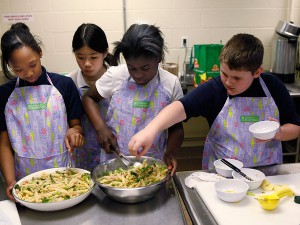 Philadelphia Inquirer food editor Maureen Fitzgerald and the Vetri Foundation partnered in 2013 to expand the reach of Maureen's afterschool cooking classes.
The mission is simple — to teach schoolchildren to prepare healthy, easy meals on a budget. Maureen and a team of 32 volunteers are teaching in 15 schools across Philadelphia and Camden. In 2014, 125 students participated.
Cindy Rappoport and Amy Steinberg began volunteering earlier in Spring 2014 after reading Maureen's weekly column in the Inquirer where she details her experiences in the kitchen with the students.
For the past two semesters, Cindy and Amy have been assigned to five middle school students at Juniata Park Academy.
"I really like being in the kitchen and being around these kids," says Cindy. "Here are these kids – 11, 12, 13 years old – and they are just so incredibly eager to do everything – cook, cut, learn. I love being around that kind of energy."
Amy says that it's rewarding to watch the students learn and grow in multiple ways over the course of the eight weeks that she works with them.
"They're learning how to measure things and read recipes. They are getting better at planning and timing the recipe," she says. "Those are math, reading and time management skills."
Although the students who participate in the program often show up with little to no previous experience in the kitchen, both Amy and Cindy see a striking difference by the end of the semester and believe that they imparting valuable life skills.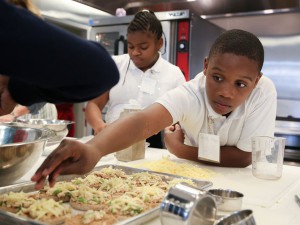 "We're teaching them that they can eat healthy and that it's important to eat healthy. When they learn that early on, they will take that with them into adulthood," Amy says.
Cindy, who is always looking for ways to give back to the community, says that there's something particularly fulfilling about the time she spends volunteering with My Daughter's Kitchen.
"I've been a volunteer in lots of different ways. What I like about the Vetri Foundation is that it's as hands-on as you can get. I am literally up to my elbows in parmesan cheese every week," she laughs. "I'm a doer, and this program satisfies that side of me."
― Danielle Zimmerman
(Originally published 12/17/14in the Vetri Foundation's 2014 Year in Review newsletter)