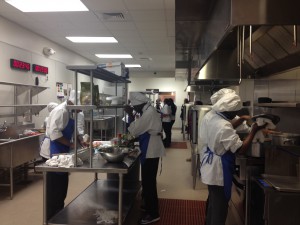 "You must be the change you wish to see" – and that's exactly what the culinary arts students throughout the Philadelphia School District did when they entered their tasty and healthy school lunch creations into Get Healthy Philly's inaugural Culinary Voice competition last February.
On Thursday, October 16, in honor of National School Lunch Week, the winning dish – a Soul Food Chicken Wrap made by students at A. Phillip Randolph High School — will be offered to more than 59,000 students in the Philadelphia school district and will become part of the menu's regular rotation. This is the first student-created item to ever do so.
"Both dishes in the competition were creative and delicious," said Mica Root, Get Healthy Philly Program Associate. "The winning Soul Food Chicken Wrap was also very user-friendly. As one of the students who designed it said, 'It's quick, easy, and you can take it on the go.'"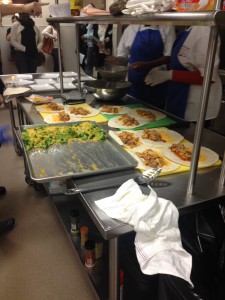 The winning team, whose dish was selected by chefs Kevin Sbraga (Sbraga, The Fat Ham, and the upcoming Juniper Commons), Nathan Lingle (The Ritz-Carlton) and Delilah Winder (with the Enterprise Center's Center for Culinary Enterprise), also earned a one-night apprenticeship with the chefs at Osteria organized by the Vetri Foundation.
The runner-up dish, Creole Chicken with Rice and Beans made by students at Murrell Dobbins High School, will make a one-time appearance on menus this Friday.
Root said that the special thing about Culinary Voice is that "it brought students' voices and creativity into debates and work around improving school food."
Planning for the 2015 Culinary Voice competition is underway. This time around, the focus will be on the creation of appealing new breakfast items. Applications are due on Monday, November 17. The competition will take place Thursday, February 26, 2015 at the Free Library of Philadelphia's Culinary Literacy Center.
For more information, visit foodfitphilly.org.