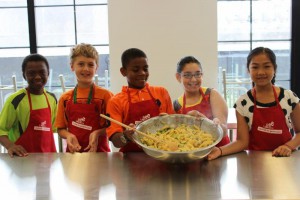 As schools let out for the summer, the Vetri Foundation for Children is gearing up for two sessions of our popular Summer Thyme Cooks program at the Free Library of Philadelphia's Culinary Literacy Center. The four-week program, aimed at 5th and 6th-grade students, teaches hands-on cooking skills, such as reading recipes, buying groceries, and creating healthy, budget-conscious meals. After each class, students will leave equipped with recipes and a bag of groceries to take home to their families.
This year's curriculum is based on food studies scholar Leanne Brown's "Good and Cheap: Eat Well on $4/Day" cookbook. The cookbook is based on the $4 a day given by SNAP, the U.S. government's Supplemental Nutrition Assistance Program, formerly known as food stamps. For every copy of the cookbook sold, one will be donated to a family in need to ensure that those who need it most receive it. The book is also available for download here.
Vetri Foundation chef Sarah Cullen says the program will focus on recipes that are versatile, such as pizza and omelets, to demonstrate how easy it is to swap in whatever ingredients you have on hand.
Tune in weekly for blog posts about Summer Thyme Cooks and featured recipes.