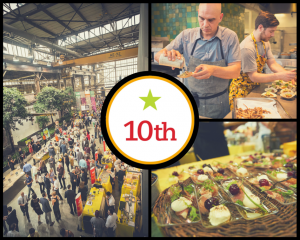 On Tuesday, June 9, more than 40 of the best chefs from across the country and around the world will convene in Philadelphia for the 10th annual Great Chefs Event hosted by the Vetri Family restaurants and the Vetri Foundation for Children. The event will benefit Alex's Lemonade Stand Foundation and the Vetri Foundation for Children. More than 1,200 guests will gather at the beautiful Urban Outfitters, Inc.'s corporate campus in Philadelphia's Navy Yard for the culinary event of the year. The event's equally in-demand After Party will be held at Lo Spiedo, Vetri's newest restaurant, for chefs, sponsors, and VIP ticketholders, making this the first time the event is completely Navy Yard-based. Tickets are currently on sale here.
Marc Vetri has hand-selected the list of participating chefs, calling on his friends from around the world, top talent from LA to NYC, Chicago to Italy. The chefs will donate their time, talent, and food, creating delicious samplings for guests at the walk-around tasting gala. Representatives from the country's best bars, wineries, and craft breweries will also be present, including Joe Campanale, beverage director and co-owner of L'Apicio, L'Artusi and dell'anima in NYC, Gary Fish, founder of Deschutes Brewery in Bend, OR, and many more. Back to emcee the event again this year is Alicia Vitarelli, co-anchor of 6abc's Action News at 4 p.m. and its weekly entertainment program, FYI Philly.
Participating chefs include veterans of the event, as well as several noteworthy newcomers. Returning chefs include Food Network Iron Chef and co-host of The Chew, Michael Symon and his co-host on Food Network's new show, All Star Academy, Alex Guarnaschelli, as well as Bravo Top Chef: Masters contestant, Jonathan Waxman. Several of this year's participating chefs have also been named finalists in the 2015 James Beard Foundation Awards, including host Marc Vetri for Outstanding Chef and regional Best Chefs finalists Matthew Accarrino (SPQR), Jon Shook & Vinny Dotolo (Animal), Jonathon Sawyer (Trentina), Marco Canora (Hearth), Alon Shaya (Shaya), Michael Cimarusti (Providence), among many other past years' winners and nominees. Philadelphia's culinary scene is being represented by Jose Garces (Garces Group), Kevin Sbraga (Sbraga Dining), Daniel Stern (R2L), Michael Solomonov (Cook N Solo), and Masaharu Morimoto (Morimoto). Great Chefs Event newcomers include Matt Rudofker (Momofuku Ssäm Bar), Benjamin Ford (Ford's Filling Station), Matty Matheson (Parts & Labour), and Tony Maws (Craigie on Main). Click here for full list of participating chefs.
In addition to the stellar selection of food and drink, guests will have the opportunity to bid on silent and live auction items. Auction items include one-of-kind culinary experiences, such as private dinners with participating chefs, hard-to-get concert tickets, autographed memorabilia, and much more.

This year, the After Party will be held at Lo Spiedo, the newest Vetri family restaurant. VIP ticketholders and sponsors of the event will have the exclusive opportunity to rub elbows with all of the event's talented chefs in an intimate setting. Acclaimed barbecue chef Adam Perry Lang will be behind the grill once again. After Party guests can also count on additional bites from Vetri Family chefs, such as Brad Spence's (Amis) famous 230 lb. (up from 210 lbs. last year!) mortadella sausage made in collaboration with Victory Brewing Co., select food trucks and vendors, as well as specialty cocktails and entertainment.
To mark the Great Chefs Event's 10th anniversary, Marc Vetri has planned a once-in-a-lifetime event for Monday, June 8, the night before the event – a multi-course reunion dinner featuring all of the Food & Wine magazine Best New Chefs of 1999 – in the private dining room at Vetri Ristorante. One year after he and partner Jeff Benjamin opened their first restaurant, Marc Vetri was named one of the magazine's Best New Chefs along with Paul Kahan (Blackbird, avec, The Publican), Suzanne Goin (Lucques, a.o.c.), John Besh (August, Besh Steak, La Provence, Domenica), Rocco DiSpirito (award-winning cookbook author of the Now Eat This! series), James McDevitt (Bohlsen Restaurant Group), and Dale Reitzer (Acacia), all of whom will be providing a course for the exclusive meal. Tickets are currently only available to Executive Chef and Chef Sponsors of the 2015 Great Chefs Event.
History of the Great Chefs Event:
Eleven years ago, Marc Vetri and Jeff Benjamin met Liz and Jay Scott, who were carrying on the work that their amazing daughter Alex had started, to help find a cure for all kids with cancer. They were moved by Alex's story and by the perseverance with which Liz and Jay honored her vision. As many do, they walked away from that conversation asking, "What can we do to help?" Their answer was to host the first Great Chefs Event which brought eight local chefs and 100 guests to The Restaurant School at Walnut Hill College, raising $50,000. Vetri and Benjamin, meanwhile, inspired by the impact of their efforts, founded Vetri Foundation for Children in 2008 to give back in the area they know most about— healthy food and nutrition for Philadelphia's youth. The event has been a dual fundraiser for both organizations since 2010. Last year, the Great Chefs Event raised nearly $800,000.
Sponsors for the 10th annual Great Chefs Event include: The Emerson Group, Urban Outfitters Inc., Courtyard Marriott Philadelphia South, Cashman & Associates, Creekstone Farms, David Stout & Martine Lamoureux, Dr. Benjamin & Dr. Jordanna Cooperburg, Starr Restaurants, All-Clad, Alterra Property Group LLC, Jessica Berwind, CHOP – Department of Pediatrics, Independence Blue Cross, Curt & Susan Parnes, Rock-It Cargo, AlliedBarton Security, Andrea Biondo & Ken Hartzell, Andrew Schlessinger, Dan & Kathy Dugan, Drexel University Center for Hospitality and Sports Management, Garrett Snider, Jeff Warden & Heather Chambers, Judd & Andrea Timaur, M&T Bank, Paperless Solutions Inc., RowZone Indoor Rowing & Fitness Studio, SAFARI Montage, The Philadelphia Eagles, Maripeg Bruder, Chip & Phyllis Marshal and more.
Sponsorship opportunities begin at $1,000 and include early access to the event and admission to the After Party. For information on how to become a sponsor, contact Genevieve Lynch at the Vetri Foundation for Children at genevieve@vetricommunity.org or 215-600-2630.
General Admission tickets are $350.00 per person; VIP tickets include access to the exclusive after party at Lo Spiedo and cost $525.00. To purchase tickets, visit www.vetricommunity.org.
About Alex's Lemonade Stand Foundation
Alex's Lemonade Stand Foundation (ALSF) emerged from the front yard lemonade stand of cancer patient Alexandra "Alex" Scott (1996-2004). In 2000, 4-year-old Alex announced that she wanted to hold a lemonade stand to raise money to help find a cure for all children with cancer. Since Alex held that first stand, the Foundation bearing her name has evolved into a national fundraising movement, complete with thousands of supporters across the country carrying on her legacy of hope. To date, Alex's Lemonade Stand Foundation, a registered 501(c)3 charity, has raised more than $100 million toward fulfilling Alex's dream of finding a cure, funding over 475 pediatric cancer research projects nationally. For more information on Alex's Lemonade Stand Foundation, please visit www.alexslemonade.org.
About The Vetri Foundation for Children
The Vetri Foundation for Children was founded in 2008 by chef Marc Vetri and restaurateur Jeff Benjamin to help kids experience the connection between healthy eating and healthy living. The Foundation's signature Eatiquette program brings highly trained chefs to schools to help them prepare fresh, scratch-cooked lunches that are served family style. Students learn the benefits of healthy eating and practice teamwork, communication, etiquette and portion control. Eatiquette is active in 11 Philadelphia area schools and two summer camps, serving more than 4,500 students. After-school and classroom-based cooking classes reinforce the lunchroom experience and give students the skills to take the recipes they love from the cafeteria home and share them with their families. Every meal that we and our partners serve move these children one step further away from the lifelong complications that come with childhood obesity. For more information on the Vetri Foundation, please visit www.vetricommunity.org.
CONTACTS:Alex's Lemonade Stand FoundationGillian Kocher

(610) 649-3034

Vetri Foundation for Children

Danielle Zimmerman

(215) 600-2630