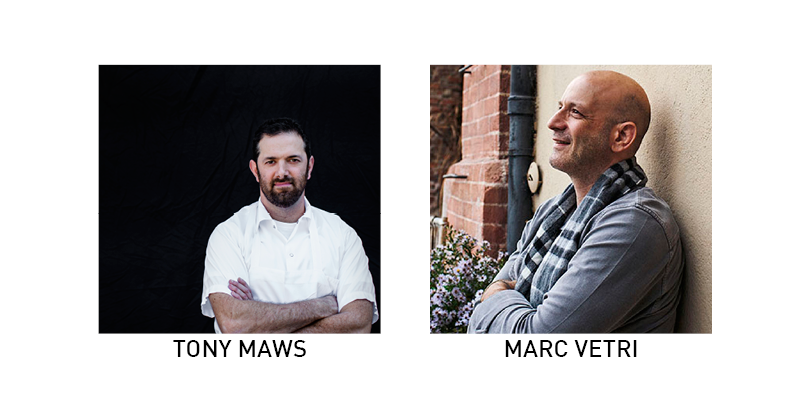 Renowned chef Tony Maws, a pioneer of the "locavore" movement and "Nose to Tail" cooking, will join Marc Vetri in the kitchen at Vetri Ristorante. 18 guests will enjoy an intimate multi-course meal with wine pairings in the beautiful private dining room upstairs at Vetri. Four seats to the table have just been released.
All proceeds from this dinner benefit Alex's Lemonade Stand Foundation and Vetri Community Partnership.
About Chef Tony Maws:
Since opening his first restaurant, Craigie Street Bistrot, in 2002, Chef Tony Maws has risen to international acclaim for his innova­tive and creative work in the kitchen, earning recognition as one of the country's best chefs, including a James Beard Award for "Best Chef: North­east" in 2011; "Boston's Best Chef " 2010, 2008, 2006, and 2003 by Boston Magazine; and Food & Wine maga­zine's 2005 "Best New Chefs."
Today, he operates two of greater Boston's culinary gems: Craigie on Main in Cambridge and The Kirkland Tap & Trotter in Somerville. Known for his dedication to showcasing locally raised meats and produce as well as locally caught seafood, Maws remains committed to providing his guests the best tastes of New England and encourages them to rolling up their sleeves and mop up the plate in what he describes as "refined rusticity."
What?
Tickets are $2,500 per person and include a seat at the Tony Maws + Marc Vetri dinner on Monday, June 13, as well as VIP tickets to the11th annual Great Chefs Event at Urban Outfitters, Inc. corporate campus in Philadelphia's Navy Yard on Tuesday, June 14. All proceeds benefit Alex's Lemonade Stand Foundation and Vetri Community Partnership.
Where?
Private dining room at Vetri Ristorante.
1312 Spruce Street, Philadelphia, PA 19107
When?
Monday, June 13 at 6 p.m.
Tickets
Purchase tickets by contacting Genevieve Lynch at genevieve@vetricommunity.org or 215-600-2630.