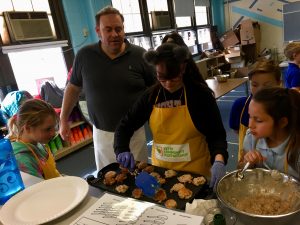 In Week 2 of Vetri Cooking Lab at Adaire Alexander School, we made Apple Cinnamon Pancakes with Raisin Butter and talked a lot about measuring different types of ingredients and cooking tools. We also practiced reading the recipe and quizzed their comprehension with a short test.
The students did an excellent job grating apples, measuring dry ingredients, rehydrating raisins to be blended with an immersion blender into our raisin butter. They mixed together the pancake batter and cooked 30 cakes total on the griddle. A small group put their heads together to figure out what the serving size was if we divided the recipe yield by the number of kids in the class. (Answer: 2 pancakes per student)
There were a surprising number of raisin skeptics! When I asked the raisin butter team to taste a raisin before we set them to soak in the warm water, I felt like I was watching that show Fear Factor! One chewed it reluctantly with a disturbed expression, another held it in his fingers and poked it once with his tongue, another took the tiniest nibbled possible, and the other held it in front of his mouth, pretended to eat it, and spun around to put it in the trash can. I laughed and reminded the class of our pledge to keep an open mind and try everything!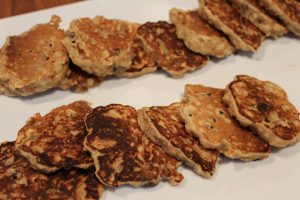 At the end of class when we all came together to taste and discuss the recipes, my day was made when one student exclaimed, "Shockingly, I love the raisin butter!" This spirit of adventure and discovery is one of many reasons why I love teaching this class.
— Tara Mataraza-Desmond, Vetri Cooking Lab Instructor