Your Vote Makes a $10,000 Difference!
The Vetri Foundation has been nominated by David Craig Jewelers to receive a $10,000 Grant from Jewelers for Children … and we need your vote! The top ten most voted for children's charities will receive a $10,000 grant. Voting is simple! Now through October 30th, visit the Jewelers for Children Facebook page (or click here) to cast your vote for the Vetri Foundation for Children. Only one vote per person is permitted, so please, share this awesome opportunity with friends!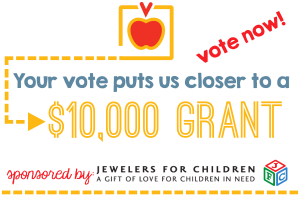 The grant is funded by Jewelers for Children, an organization founded in 1999 by the U.S. jewelry industry with the mission of helping children in need. Since its inception, JFC has donated nearly $43 million to programs benefiting children whose lives have been affected by illness, abuse, or neglect through charity partners such as St. Jude Children's Research Hospital®, the Make-A-Wish® America, the Elizabeth Glaser Pediatric AIDS Foundation, and the National CASA Association. For more information, you can visit the JFC website at www.jewelersforchildren.org.
The Vetri Foundation, along with Mission Kids, was nominated for the grant by David Craig Jewelers of Newtown, PA. "We were pleased to hear about the program," says David Craig Rotenberg of David Craig Jewelers. "It was such an easy way to help support the excellent work Mission Kids and Vetri Foundation do locally to improve the quality of life for the less fortunate youth of our community. Now, we're trying to get the word out to the public to vote so Mission Kids and Vetri Foundation receive these generous grants."
The Vetri Foundation for Children is honored and tremendously excited by the nomination. We hope you will support us on our mission to provide kids with the necessary nutritional foundation to grow and thrive! Thank you for your votes and support.
[button color="red"]Vote Now![/button]