Diced Challenge
Diced is a culinary and fundraising challenge inspired by the Food Network's TV game show, Chopped. Teams of up to five competitors facing off in a piping hot competition to create a nutritious, delicious dish from a basket of mystery ingredients.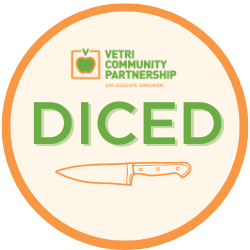 Diced Challenge for Nutrition Education
Can you take the heat?
Teams of up to five competitors have 45 minutes to use their ingredients to chop, mince, sear, and stir, culminating in a dish which will be graded for taste, presentation, and creativity by a panel of celebrity judges.
Congratulations to Team Wok This Way from the Junior League of Philadelphia on becoming the Fall 2022 Diced Champions. Stay tuned for the announcement of our 2023 Diced Challenge!
Want to host a private Diced competition in VCP's Teaching Kitchen?
Contact Lauren to learn more
@vetricommunity
Follow us on social media for recipes, resources and the latest VCP news!
Follow us on Instagram