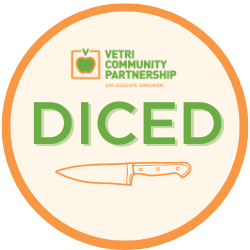 Diced Challenge for Nutrition Education
Can you handle the heat?
Diced is a culinary and fundraising challenge inspired by the Food Network's TV game show, Chopped, that will showcase teams of up to five competitors facing off in a piping hot competition to create a nutritious, delicious dish from a basket of mystery ingredients.
Teams will have 45 minutes to use their ingredients to chop, mince, sear, and stir, culminating in a dish which will be graded for taste, presentation, fundraising amount, and creativity by a panel of celebrity judges.
In addition to the culinary challenge, teams will have the opportunity to fundraise to unlock bonuses and team advantages.
Learn more & register your team
@vetricommunity
Follow us on social media for recipes, resources and the latest VCP news!
Follow us on Instagram