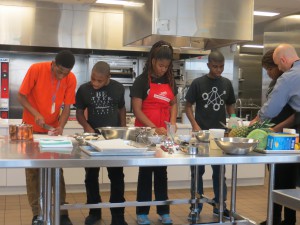 "Let's go, let's go, let's go!" Marc Vetri hustled the kids as they ambled in for their last cooking class yesterday at the Free Library of Philadelphia's Culinary Literacy Center. As they slung down their backpacks and jackets, the spirit of competition permeated the room – the 18 students from Building 21 would put their cooking skills to the test to impress a panel of judges in the Final Throw Down.
There was no introduction and not a recipe in sight; the three teams got to work right away, preparing an appetizer and main dish they had conceptualized with one of the overseeing chefs last week. Carla Norelli, Vetri Program Manager, Joan Jablonoski, Vetri Program Coordinator, and Chef Marc Vetri helped facilitate each team of six.
This was the last class of a semester-long program for 18 freshmen at the new Building 21 high school. The summer before the school opened in 2014, the Vetri Foundation for Children developed a culinary arts curriculum for the school, including a class taught weekly by Marc Vetri. In addition to practicing general cooking skills, the students learned how to butcher a whole lamb and make pasta from scratch, and were taught the importance of utilizing locally grown produce.
Clearly, the students had learned a lot; their confidence was evident.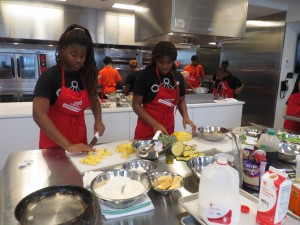 Kevin, on Norelli's team, seasoned ground beef, added cheese, and formed it into small patties. "Then, when you bite into it, it'll be all cheesy on the inside," he told me, his eyes widening in anticipation.
Jablonoski's team member Anass expertly chopped onions with ease, his left hand in the proper 'bear claw' position to protect his fingertips. He said he helps with cooking at home, and plans to make the fettuccini alfredo recipe he learned in the class for his family.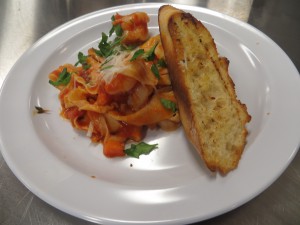 Other students worked expertly with the pasta making attachment on the KitchenAid – rolling out the dough, flouring it and pushing it through the roller slowly and evenly. The whole class had gotten a lesson in pasta the week before from the maestro himself, Marc Vetri, and were excited to incorporate it into their competition dishes.
As the dishes came together, the judges – Jeff Benjamin (co-founder of the Vetri Foundation), Hillary Van Anda (Building 21 science teacher), Tara Ranzy (Building 21 principal), and Liz Fitzgerald (Culinary Literacy Center specialist) – took their seats. They would evaluate each dish on taste, appearance/presentation, creativity, and professionalism.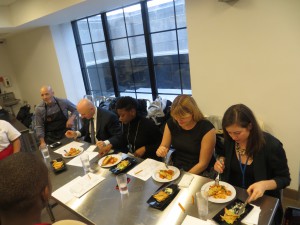 Jablonoski's team served first. The kids placed plates of buffalo chicken wontons with avocado sauce and scallions, homemade fettuccine with shrimp and scallop marinara sauce and a garlic toast in front of the judges.
"The scallop is cooked nicely; I like the spice," Ranzy said.
"This tastes like that frozen Texas Toast that's so delicious, but so bad for you! That's impressive," Fitzgerald commented.
The plates were cleared, making way for a Marc's team's dish – a cabbage roll with jerk chicken and curried rice and a hunk of Marc's own special recipe cornbread, pasta salad, and a coconut pineapple smoothie. The students began snacking on leftovers as the judges wrote down their comments.
Norelli's group served their sliders with gouda, sautéed mushrooms and caramelized onion, kale salad with homemade potato chips, and fresh-made linguini with spicy shrimp sauce.
"This is better than the kale salad I had for lunch today!" Van Anda exclaimed.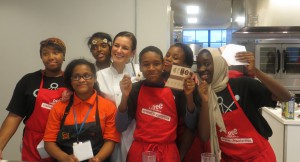 Much eating and little cleaning ensued as Benjamin tallied the points. Chef Vetri called everyone together for a few heartfelt 'thank you' speeches and, finally, the prize was revealed: gift certificates to Pizzeria Vetri and a free pass on the rest of the clean up.
The six kids on Norelli's team whooped and threw their hands up when Benjamin announced their victory. "I was confident, but oh it feels good," slider-master Kevin said.
Chef Vetri left satisfied, the students' performance was evidence of all they had learned over the semester. They had been listening; the proof is in the pasta.
— Katherine Rapin