Vetri Community Partnership chefs were tasked with creating a simple recipe for a home cook that utilized pantry staples, included all the food groups, used minimal pots & pans, and only took 30 mins of prep, cook and serve time.
A true unicorn of a recipe! But after some deliberation, they came up with this one-pan burrito bowl.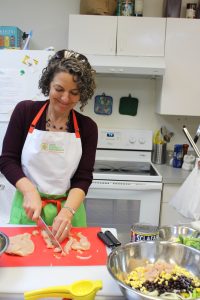 Kelly Herrenkohl, VCP's fearless COO and mother of four, decided to put it to the test. Her rubric – is this something she would actually be able to get on the table for her kids after a busy day at work?
We took to the #VCPtestkitchen with a timer set to 0:30 and she was off!
The filling ingredients in the oven would take the longest, so she immediately started cubing, slicing, chopping. Everything went together in a bowl and she tossed it all with olive oil and taco seasoning. After spreading everything out on a sheet pan, she tossed it in the oven and turned her attention to the quinoa. Once the quinoa was slowly bubbling on the stove top, she quickly set up her toppings — grated cheese, chopped green onions, and tomatoes. And then, with nothing left to prep, Kelly had time to clean up.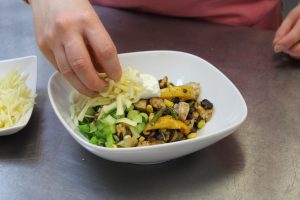 In just over 30 minutes, the filling came out of the oven and the quinoa came off of the stove top. The self-assembly nature of the recipe meant that all she had to do was put out bowls and forks for her kids to help themselves.
It was a hit! We hope you enjoy this recipe with your family. It can easily be doubled or tripled to accommodate a crowd!