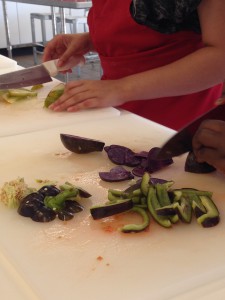 The SummerThyme Cooks finished off their final week with pizza-making and lots of fun toppings, most of which just happened to be purple: eggplant, purple bell peppers, Vitelotte potatoes (a blue-violet French variety of potatoes), and plums.
They started with the dough first, discussing how yeast is a living thing that likes a warm environment in order for it to ferment and make the dough rise. Chef Sarah Cullen likened it to giving a baby a bath.
"The water can't feel too hot on your skin," she said. "It should feel pleasant."
The chefs used their wrists to find the perfect temperature because it is more sensitive than the hand, according to Cullen. Then, with a little math lesson thrown in, they figured out what line to fill to in the measuring cup. Once they put the water in, the smell of the happy yeast was unmistakable.
"Who's a good yeast?" Sophia said comically in a baby voice into the bowl.
While they kneaded the dough to develop the gluten that gives it the nice chewy consistency of pizza crust, the girls got to talking about cooking at home, their favorite types of dogs, and whatever other topic came to mind.
"My mom doesn't have time to cook that much because she's always working!" said Sophia, a little exasperated.
"Well, now you can do it!" countered Cullen. "That's the great thing about this class!"
Cullen explained that pizza dough is a great recipe to prepare the night before if tomorrow's schedule looks too busy. The dough can go in the fridge overnight and just needs time to rise at room temperature before you use it. For the class, they sped up the process by sitting the dough to rise near the heated stoves covered with a wet cloth so it wouldn't dry out.
For the pizza sauce, the girls cut up tomatoes and onions and put them in a pot to cook down. As the ingredients splashed in, Cullen tipped the pot away from them so they wouldn't get splashed with hot juices — another handy kitchen trick to keep in mind.
While the dough rose and the sauce cooked, Cullen showed the girls how to make a simple pesto using fresh basil, garlic, parmesan, salt and olive oil. It was as easy as combining all of the ingredients in the food processor and blending them nicely.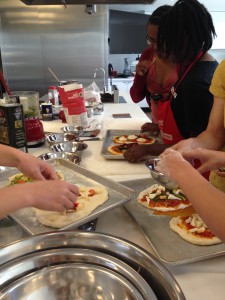 It was a free-for-all as everyone began topping their personal pizzas. There was a plum, potato, cheddar and caramelized onion pizza, a pepper, tomato and mozzarella pizza, a pesto, eggplant and mozzarella pizza, and a whatever-you-want-to-put-on-it pizza.
"Nobody did just plain pizza," Sophia pointed out, surprised at how willing everyone was to try something new on an old favorite.
When asked what their favorite dish overall had been over the past four weeks, Sophia pointed to the pizza without hesitation.
"This and last week's recipe," said Landry.
As everyone grabbed their take-home ingredients and headed out, they made sure to say that they would be back again next year. They couldn't wait to make more recipes, experiment with even more flavors, and make more friends at SummerThyme Cooks.
-Julia Motis
Recipe Links