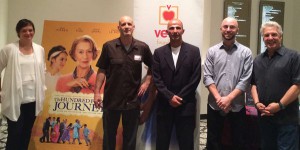 Frequent Food Network contributor Marc Summers recently donated $2,500 to the Vetri Foundation after a screening of The Hundred-Foot Journey at Prince Music Theater! From Philly Night Out:
"Food Network regular Marc Summers surprised buddy Marc Vetri with a $2,500 donation to the famed Philly chef's Vetri Foundation after a screening of "The Hundred-Foot Journey" last night at the Prince Music Theater. The screening – about an Indian family who moves to southern France and clashes with a classic chef ( Helen Mirren) – benefited the foundation, which works to teach children how to make healthier eating decisions."
Marc has long been an ardent supporter of our foundation, and we thank him very much for the donation!