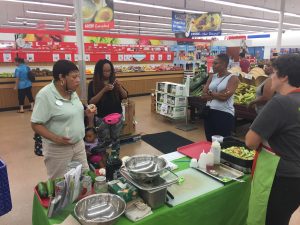 Our Mobile Teaching Kitchen brings hands-on cooking demonstrations to schools, farmers markets, community events, and now — grocery stores! For the past couple months, our chef educators have been bringing our cooking demos into the produce aisle at PriceRite in Camden, NJ. We spoke to Bob Baylor of Ravitz Family Markets to discuss our growing partnership.
How did this partnership come about?
Leadership at the Ravitz Family Markets, the Family Foundation, and Vetri Community Partnership had a meeting to discuss the many ways we can help bring fresh foods to areas that don't always have the best access to them. After sharing their many experiences, the idea of bringing the Mobile Teaching Kitchen program to the PriceRite of Camden seemed like a great idea.
What is it like to have the cooking demonstrations at PriceRite?
To be able to share with our customers product knowledge that goes beyond simple display merchandising is quite an opportunity for all of us. Our customers enjoy learning about the fresh fruits and vegetables, but taking it a step further by actually demonstrating the food prep steps is another level that they really appreciate of.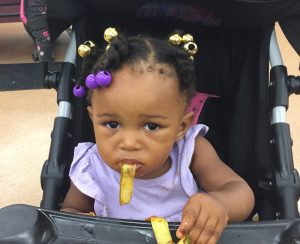 What have you heard from customers about the demonstrations?
The customers really appreciate the Mobile Teaching Kitchen coming into their community. It is another way for the customer to learn more about preparing fresh and healthy foods. The demonstrations also give the customer a chance to taste a variety of fresh fruits and vegetables that they might never have tasted before.
Have you tried any of the recipes from the cooking demonstrations?
OF COURSE! How could we turn away delicious and nutritious food like this?!
Visit us at an upcoming PriceRite event:
Wednesday, October 3 – 2-4 p.m.
Friday, October 5 – 2-4 p.m.
Friday, November 4 – 2-4 p.m.
Tuesday, November 6 – 2-4 p.m.