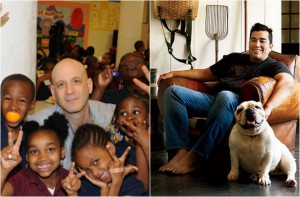 The Philadelphia Free Library's Culinary Literacy Program has been getting a lot of well-deserved attention! Check out some of the greatest hits below:
"The effort extends to children and teens as well. Chef Marc Vetri's foundation will teach classes aimed at creating healthy eating habits early in life, while the Careers through Culinary Arts Program will offer vocational training for underserved youth interested in the food industry." –6abc
"'This, for me, defines what ought to be happening as we go forward,' Vetri said. 'Kids ought to be learning about cooking and learning where things come from, cooking at home and just learning about that so that they understand the relationship between healthy eating and healthy living.'" –Philadelphia Business Journal
"One June 2nd, the Free Library of Philadelphia will debut its new Culinary Literacy Centerand state-of-the-art demonstration kitchen, with the help of two of Philadelphia's most acclaimed chefs: Jose Garces and Marc Vetri, and 'as part of the Culinary Literacy Center kickoff, some of the Library's many culinary literacy partners will host interactive stations that focus on different aspects of cooking and nutrition.'" –Philebrity
"In between chugging olive oil and cracking wise, he [Vetri] imparted knife skills, food-preparation techniques, and a killer panzanella recipe to a crowd that included restaurant workers with limited English, kids finding their way around the kitchen for the first time, and parents and grandparents navigating their families' nutritional needs.
These are some of the demographics that will be served by the Free Library's new Culinary Literacy Center, which opened Monday with demonstrations from Vetri and fellow chef Jose Garces." –Philly.com
"'I love that the Free Library has added a culinary suite to their beautiful Central Branch – and that they've invited community partners in to use the space for education, said Marc Vetri. 'Getting people cooking healthy, real food opens up so many learning opportunities for them and their families.'" –The Daily Meal