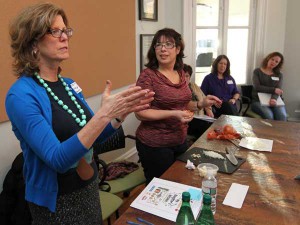 Much like the Vetri Foundation's Eatiquette school lunch program, we feel it's crucial for children to learn basic cooking skills as well, to show them that preparing their own food is not only healthier than eating store-bought and pre-prepared meals, but more fun, too.
My Daughter's Kitchen, a program headed by Philadelphia Inquirer food editor Maureen Fitzgerald, is now in its third semester. Fitzgerald recently held a meeting prior to the start of the semester at our headquarters, which was attended by enthusiastic volunteers. We can't wait to see where else this great program leads.
Today on Philly.com, Fitzgerald chronicled a recent class at Henry W. Lawton School in northeast Philadelphia's Tacony neighborhood. Click the button below to read it.
[button color="red"]Read The Full Article![/button]