Program Updates & EAT 360
Eatiquette360 is now EAT360
EAT360 will be focusing on providing Direct Nutrition Education Classes in the classroom, as well as Fresh Food Tastings in the lunchroom this school year. In addition to those two aspects of the program, our EAT360 team will be implementing Caregiver Nutrition/Culinary Classes to the communities and families of our partner schools – this will encompass cooking demos and tastings through the 'Just Say Yes' Snap-Ed initiative, as well as interactive culinary classes honing in on African heritage and culture. Upcoming programming and volunteer opportunities are listed below. 
November 1st and 15

th

: 'A Taste of African Heritage' caregiver nutrition/culinary class. November 1st will be taking place at Bethune School. There are two classes on November 15th; Wissahickon Awbury and ICS West.

 

Student nutrition/culinary classrooms: November will have classes continuing and starting at Ziegler, Loesche, St. James, Wissahickon Awbury, ICS West, and MSA. December classes will be at Bethune, Cristo Rey, and GLA SW.

 

November 29

th

 and 30

th

: Our EAT360 team needs help de-identifying over 500 surveys from our partner schools and matching them with student ID numbers. If you are a volunteer interested in administrative statistical work, please reach out to Ridhdhi Parmar at ridhdhi@vetricommunity.org

 
Mobile Teaching Kitchen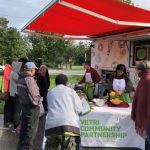 As winter approaches, the Mobile Teaching Kitchen (MTK) is closing out our Farmer's Market season at the end of November. But we still have a few more visits scheduled for Hunting Park (Saturdays) and Fairmount Park (Thursdays), so there is still time to sign up and volunteer with us! 
Just because the farmer's market season is ending, does not slow our MTK team down – the Mobile Teaching Kitchen is still on the GO! Our program runs all year round, and we would love to have our amazing volunteers continue to come out on the truck with us. 
Volunteer Highlight: Mallika Kodavatiganti is a passionate, friendly and dedicated volunteer who has helped out on the Mobile Teaching Kitchen at Hunting Park for a number of visits throughout the month of October. Mallika comes to us from Drexel University, through Drexel's Lindy Center for Civic Engagement. Here's Mallika in action cooking up tasty samples of Roasted Beets with Squash Ribbons and Greens and chatting with folks visiting the market! 
My Daughter's Kitchen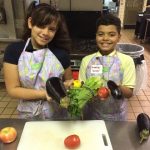 My Daughter's Kitchen's Fall 2018 semester successfully launched in early October with 35 sites under its wings, and will be approaching its 6th week. With a handful of new partner sites, we have been able to launch wonderful partnerships within Philadelphia & Camden. So far, this semester has been filled with food revelations, teamwork, and photos of tasty meals! Our participants are practicing their knife skills, learning about the nutritional content of the ingredients they are working with, as well as providing thoughtful feedback on the recipes they are building.  
At the end of each MDK class, each site's participants and volunteers sit down to taste the delicious meal they all created together. This culminating aspect of the program allows for our participants to create a positive rapport with each other, as well as the dedicated volunteers that they see each week. Here's to another inspiring few weeks of My Daughter's Kitchen! 
Vetri Cooking Lab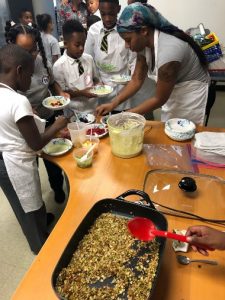 Vetri Cooking Lab (VCL) is halfway through its third year of programming at 31 sites in Philadelphia and Camden. Eboni Killing, an intern from Temple's College of Public Health volunteers at two of our VCL sites this semester. Based off of her experience, Eboni informed us on her experience with VCP so far. 
Why did you choose to intern for VCP? My internship coordinator informed me that we had a student here during the summer and she spoke highly of her experience here. I was simply telling my internship coordinator my interest and that I want to start learning more about nutrition but I wanted to be more involved. She pointed me in the Vetri Community way and I have not looked back since.  
How is this internship preparing you for when you graduate? This internship is giving me a taste of what it could be like if I was to start a career in nutrition education. I do not know what I want to focus on but being with Vetri  Community Partnership is giving me real life experiences and connections that I will carry with me for the rest of my life. I enjoy what I do, from seeing the administrative side of the organization in the office every morning to helping facilitate children in an after-school setting.  
What do you love about Vetri Cooking Lab and St. Malachy? The thing I love most about VCL and St. Malachy (besides my students) are the recipes and the educator. The educator has so much patience and is very good with the kids. I also love how fresh and different each recipe is. The students are not the only ones learning every week. 
Matching Gifts to Vetri Community Partnership
Susan was introduced to the great work that Vetri Community Partnership does through the weekly My Daughter's Kitchen articles in The Inquirer. She was thrilled to see that Chef Marc Vetri and Jeff Benjamin created an organization that supported the children and families of Philadelphia. Our mission of empowering children and families to lead healthy lives through fresh-food, hands-on experiences and education closely aligns with Susan's view that empowering children is a key to social change. She also supports the tactic that our programs teach important life/ culinary skills and concepts; using math, science and other disciplines in a natural way. Each child has the opportunity to shine and build confidence in their own way. As many of our volunteers and educators state, it's so amazing to have children discover that they like a food that they were once wary of, and can then turn around and influence the rest of their family.
The company  works for truly believes that corporate citizenship starts with their employees. They practice Human Social Responsibility, which means that they take their lead from their team-members in their corporate philanthropy efforts. One such way that they support these efforts is to match their employee's financial gifts to their preferred nonprofit, up to $250. Susan has been a faithful donor to Vetri Community Partnership since 2014, and in 2017, she was able to have them match her yearly donation to VCP. She is looking forward to doubling her donation this year as she prepares her year-end donation for 2018.
This year, Vetri Community Partnership has partnered with Double your Donation to make your financial impact go so much further. Many companies offer matching gift programs to encourage employees to contribute to charitable organizations, many will match contributions dollar for dollar, and some will even double or triple the amount of your gift! To check if your company will match your contribution click here.
Volunteer Highlight  – Celeste and Craig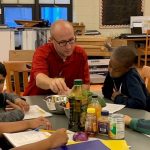 On a beautiful fall day that felt more like a breezy summer afternoon, Celeste Fiordimondo and Craig McCann volunteer with Vetri Community Partnership's Vetri Cooking Lab (VCL).  They arrive every Thursday afternoon at 3:15 to support Tamyah Brice, a VCL Educator with Vetri Community Partnership.  For 10 weeks this fall, Celeste and Craig will work with 15 students at Chester A. Arthur School, at 20th and Catherine Streets as a part of Vetri Cooking Lab.  VCL is an out-of-school time program that combines cooking, nutrition education and STEAM (science, technology, engineering, arts and math) core concepts.  Over a 10 week period, students learn these concepts through recipes and lessons geared towards learning important nutrition lessons like Food Access & Convenience Stores, which was this week's lesson.  The recipes for this week were Broccoli Salad and Pasta e Ceci.  Upon arriving to the classroom, Tamyah, Craig and Celeste get to work rinsing the fresh vegetables and setting up stations for the students.  While set up is happening, they talk about what recipes they each made the past week and what worked and what didn't – their own recipe swap of sorts.
Both Celeste and Craig came to VCP just this past summer to start volunteering.  They are both in different times of their lives.  Celeste was newly retired and wanted to continue with a structured day and wanted to volunteer and work with children.  Craig left his engineering career behind to return to school to become a secondary school math teacher.  Both Craig and Celeste feel that the most rewarding part of their experience is watching the students grow each week.  The students are building life skills as they learn how to handle and use a knife correctly.  They both get excited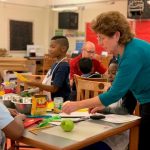 when students try something that they say they never liked, but then leave the class with a new appreciation for that ingredient. The kids are SO proud at the end of class when they present the finished recipe.  The smell of whatever they are making fills the hallway of the first floor.  The smell often pulls the Principal, Mr. Hunter & After school lead Ms. Dee into the classroom for a little "quality control tasting".  When Mr. Hunter or Ms. Dee come in, the students demonstrate their skills and talk through the ingredients as they are building the recipes.  There is such an immense sense of pride on both Celeste and Craig's faces.  Ms. Dee admits that she uses the recipes on a regular basis.  Her friends think that she is now a good cook.  At the end of the day, Celeste and Craig feel as if they are making a difference in the lives of the families of the children that they work with as well as many other members of the Chester A. Arthur School community.
Thank you to Celeste, Craig and all of the 100+ volunteers that work with Vetri Community Partnership on a regular basis. Without your time and your talent, we could not provide high quality programs to the many communities in Philadelphia and its surrounding areas.
If you are interested in joining us as a volunteer, we have several different opportunities that may suit your schedule! Click here to find out more.