We've been highlighting all things canned foods: ways to use canned foods in recipes, checking for expiration dates, rinsing and preparing them for a meal and of course a few canned based food recipes along the way. 
We asked our staff to share with us what canned food item they almost always have in their pantry and their favorite recipes that are heavily canned food based.  Here is what they shared with us: 
Emily Oppenheim, Education Programs Director: 
"In addition to every variety of beans, I always have canned artichoke in my pantry. After draining and rinsing, I'll sauté the artichoke hearts with some olive oil, garlic and onion and add it to pasta with a simple lemon sauce. It is so quick and yummy!"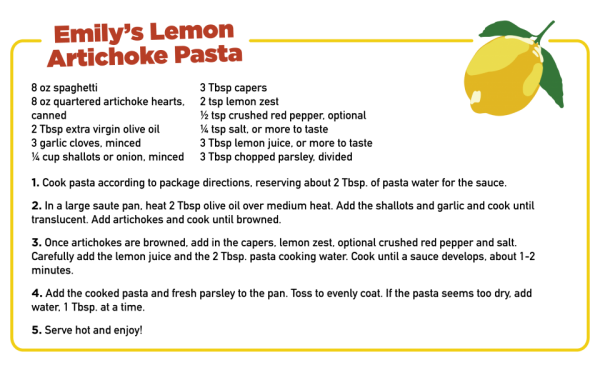 Lemon-Artichoke Pasta:
8 oz spaghetti pasta
8 oz quartered artichoke hearts, canned
2 Tbsp extra virgin olive oil
3 garlic cloves, minced
1/4 cup shallots or onion, minced
3 Tbsp capers
2 tsp lemon zest
1/2 tsp crushed red pepper, optional
1/4 tsp salt, or more to taste
3 Tbsp lemon juice, or more to taste
3 Tbsp chopped parsley, divided
Instructions:
1.       Cook pasta according to package directions, reserving about 2 Tbsp. of pasta water for the sauce.
2.       In a large saute pan, heat 2 Tbsp olive oil over medium heat. Add the shallots and garlic and cook until translucent. Add artichokes and cook until browned.
3.       Once artichokes are browned, add in the capers, lemon zest, optional crushed red pepper and salt. Carefully add the lemon juice and the 2 Tbsp. pasta cooking water. Cook until a sauce develops. About 1-2 minutes
4.       Add the cooked pasta and fresh chopped to the pan. Toss to evenly coat. If the pasta seems too dry, add water, 1 Tbsp. at a time.
5.       Serve hot and enjoy!
Lauren Hallowell, Development Coordinator: 
"As a former vegetarian who still makes meatless meals, I always have pinto or black beans on hand. I currently use beans a lot for soup and rice bowls. I found a recipe for taco soup that I made a lot in college because it was primarily can based": 
Taco Soup: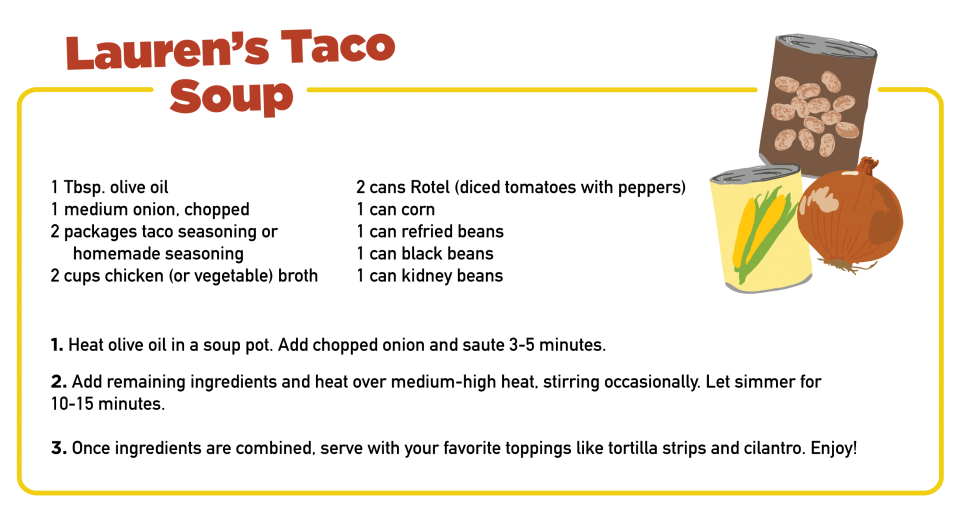 1 Tbsp. olive oil
1 medium onion, chopped
2 packages taco seasoning or homemade seasoning
2 c. chicken broth
2 cans Rotel (diced tomatoes with peppers)
1 can corn
1 can refried beans
1 can black beans
1 can kidney beans
Instructions:
Heat olive oil in a soup pot. Add chopped onion and saute 3-5 minutes.  Add remaining ingredients and heat over medium-high heat, stirring occasionally. Once ingredients are combine, serve with your favorite toppings like tortilla strips and cilantro.
Jen Holman, Eat360 Program Educator: 
"At my house, we always have lots of canned beans on hand, but the ones we use the most are chickpeas! Chickpeas are great in a salad or made into hummus, but we often add them to soups, stews, or curries also. One of my family's favorite ways to eat chickpeas is roasted as part of a sheet pan meal that includes shawarma-spiced meatballs and cauliflower- the chickpeas get so crispy and we always fight over who gets the last few! Canned foods are so helpful when you need a quick dinner and can't get to the store. I often make a chickpea stew with turmeric, coconut milk, and greens- if you have canned chickpeas and coconut milk in your cupboard and some frozen spinach on hand, it's ready in about 20 minutes!"

Caryl Palmer, Operations Coordinator: 
"I like to keep diced tomatoes with basil and oregano. I use them in a few dishes: chorizo, tomatoes and spinach with a little heavy cream served with pasta; pan seared chicken with onions and garlic served over rice or noodles. I've also used them for a quick salsa with red onion, cilantro and mango if in season."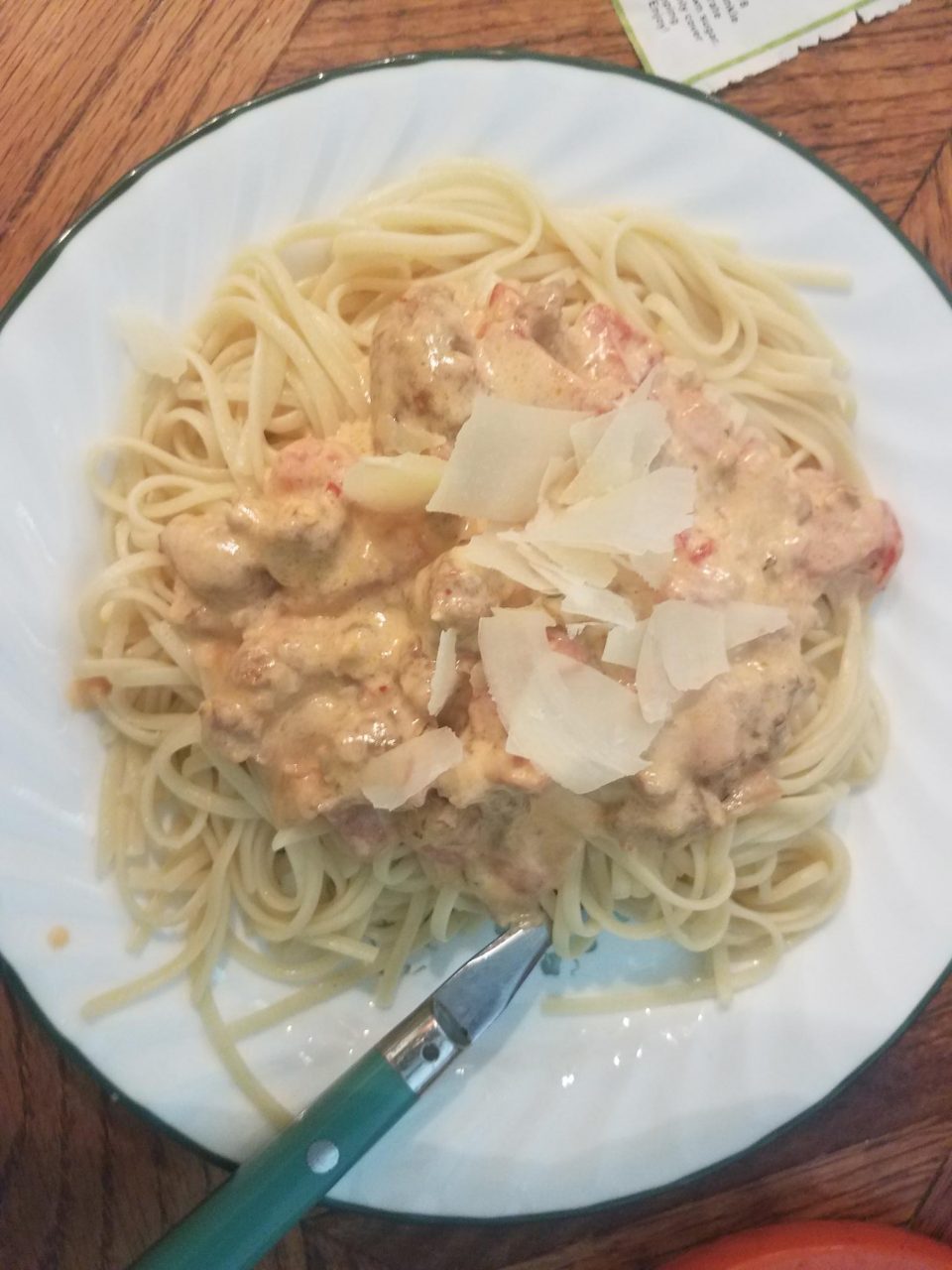 Fae Ehsan, Development Manager: 
"Canned chickpeas are so versatile! I usually use them as a way to sneak some plant-based protein and iron into my diet. My favorite chickpea recipe is this Chickpea & Tomato Stew by Priya Krishna. It's delicious to eat by itself or over rice, and it's so filling! If I don't have fresh tomatoes, I'll use canned diced tomatoes (another canned good I always have in my pantry)." 
Lacey Cornell, Eat360 Program Manager: 
"I love canned clams! They are great for adding to pasta and in chowder. I grew up eating taco soup, which has a lot of canned veg and beans in it. Here's a good recipe for it."
Christin Kwasny, Development Director: 
"Recently, I started making my own salsa with canned tomatoes.  I add a pinch of salt and pepper, a little minced garlic, diced onion, and a squeeze of lime.  I like to use the fire roasted canned tomatoes. Super easy and much less expensive than pre-made salsa." 
Tara Mataraza Desmond, Program Educator:
"One of my favorite canned-food reliant recipes is VCL's White Chicken Chili. It uses canned beans, canned (boxed, but I count that as a canned food) broth, canned chilis among other ingredients. It's a great recipe for families because there are lots of jobs kids can do themselves, including opening cans, draining and rinsing, adding that food (that requires no further prep) at specific times in the recipe (they can follow along in the instructions with a simple task). It's very affordable and can be doubled for batch cooking and frozen in portions for later enjoyment."