Meet the newest members of the VCP team, Caryl & Caitlin! 
Caryl has joined our team as our new Operations Coordinator and Caitlin has joined our team as our new Marketing Manager. We are thrilled to have them both on board!  Get to know them a little better in the latest installment of our #VCPeople series.
If you were a vegetable, what would you be and why?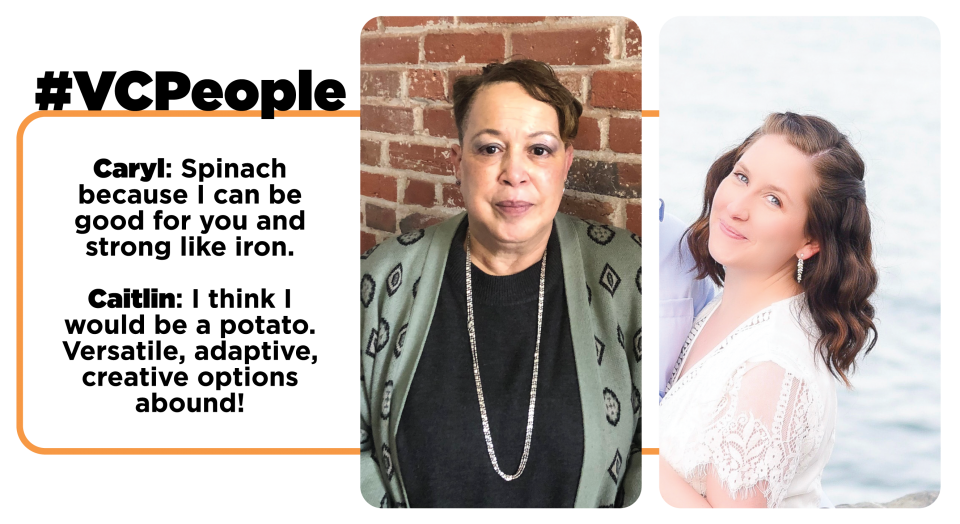 Is there a defining moment in your career that led you to VCP? How'd you get to us?
Caryl: Coming from a corporate workplace, I was looking to use my transferable skills in a more community "give back" role.
Caitlin: I have always had a deep desire to make a difference in the world and to do the work that would create needed change. I was thrilled when a position combining marketing and foundation work became available because it has finally allowed me to live out that desire of doing the type of work that makes a difference in other people's lives and in the communities that we work with here at VCP.
What life/work/school accomplishment are you most proud of?
Caryl:  Life: Being able to advocate for the care of my parents near their end of life. Work: Seeing team members turn around deficient performance after investing in their development. School: Graduating HS and college at ages 15 and 19 respectively.
Caitlin:  I am most proud of the complete re-branding and transformation of the event venue I worked for before joining Vetri Community Partnership. We took a wedding/events space that had been operating for over 30 years and breathed new life into with a complete overhaul in identity and brand.
 What is your favorite thing to cook?
Caryl: Chorizo with a blush sauce over pasta
Caitlin: I love pasta! I think I could eat pasta every day of the week and I would certainly cook it every day if I could! I love to experiment with making my own sauces and to introduce different ingredients and recipes into my pasta cooking adventures.