Meet the newest members of the VCP team, Jen & Trent! 
Jen has joined our team as an EAT360 Educator and Trent joins us as our new EAT360 Program Manager. We are thrilled to have them both on board!  Get to know them a little better in the latest installment of our #VCPeople series.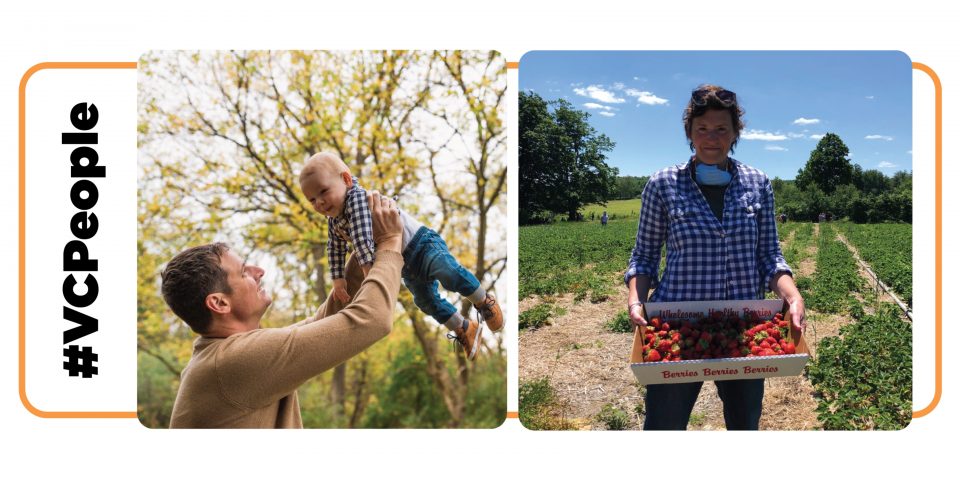 If you were a vegetable, what would you be, and why? 
Jen:  If I were a vegetable, I'd be a cabbage. Cabbages are sort of quiet and non-descript, but they are surprisingly delicious in all sorts of dishes and generally handy to have around! 
Trent:  I would be an ear of sweet corn. The obvious reason for this is that I'm from Iowa, but also because eating an ear is sweet corn is something people tend to associate with spending time with family, which is by far the most important part of my life.  
What life/work/school accomplishment are you most proud of? 
Trent:  Winning my family's Easter Egg decorating contest 3 years in a row and a grand total of 5 times (2009-2011, 2014, 2019). 
Jen:  For the last few years I have been part of a team that opened a small grocery store in South Philadelphia. I'm very proud of the success of the store, which managed to stay open and serve the community throughout the challenges of the pandemic. Providing fresh, affordable produce and healthful prepared foods to our neighborhood has been a privilege and it's gratifying to see the impact thoughtful business can have. 
Is there a defining moment in your career that led you to VCP? How'd you get to us? 
 Trent: After working in the business world for nearly 15 years, I decided it was time to do something that truly I love. Having the opportunity to be part of the Team at Vetri Community Partnership is a combination of my passion for cooking, teaching, and mentoring kids. I 100% believe in the organization's mission and believe the work we are doing is have a significant impact on the Philadelphia community. As an added bonus, the organization is a group of dynamic people that I find inspiring and bring out the best side of me.  
What's your real life superpower? (talent) 
Jen: My real-life super power would have to be my ability to make something from (seemingly) nothing. I love repurposing and finding new uses for things, and despite my complete lack of artistic ability I really enjoy helping my kids make art out of things they find around the house. I'm also the kind of person who can rummage around in the fridge and come up with enough odds and ends to make a cohesive and (usually!) delicious meal. 
What's the most important life lesson you've learned thus far?  
Trent: Treat other people the way you want to be treated. 
Jen:  One of the most important lessons I've learned so far is that it's not always as important to know where you're going as it is to learn along the way. Often in life, as in the kitchen, things don't turn out exactly the way we expected, but if we keep our eyes open even wrong turns can put us on the right path in the end.