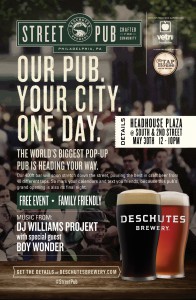 Deschutes Brewery is packing up the world's largest pop-up pub and heading over to Philadelphia for one day only on Saturday, May 30. The ultimate craft beer block party, this 402-foot custom bar will be slinging beers from 40 taps at Headhouse Square (South and S 2nd Streets). At each of its national stops, Deschutes Brewery will be donating 100 percent of proceeds from Street Pub to charity. In Philadelphia, Deschutes Brewery has teamed up with the Vetri Foundation which helps kids experience the connection between healthy eating and healthy living.
Not only will there be a huge selection of Deschutes Brewery beers flowing from the Street Pub's outrageous number of taps, but there will be great food to pair with it. Alla Spina, Lo Spiedo, Mom Mom's Polish Food Cart, and The Twisted Tail will be serving up food to complement the beers (think everything from the easy-drinking Mirror Pond Pale Ale all the way to the big and bold flavors of The Abyss). Deschutes Brewery's corporate executive chef, Jeff Usinowicz, will be cooking up some favorite pub fare right on site as well.
This family-friendly event will also features bar games for prizes, special samplings and live music by DJ Williams Projekt with special guest Boy Wonder. Deschutes Brewery Street Pub's grand opening is also its final night, so make sure to be there for this one day only event!
When: Saturday, May 30, noon-10 p.m.
Where: Headhouse Plaza at South St. & S 2nd St., Philadelphia, PA
Admission: Free for all ages
In partnership with: City Tap House and Vetri Family Restaurants
After Philadelphia, the Street Pub will make appearances in the following cities:
August 1: Cleveland, OH
August 22: Chicago, IL
September 19: Minneapolis / St Paul, MN
October 17: Denver, CO
November 14: Sacramento, CA
For more information on each stop visit www.DeschutesBrewery.com/streetpub or follow the conversation at #StreetPub.