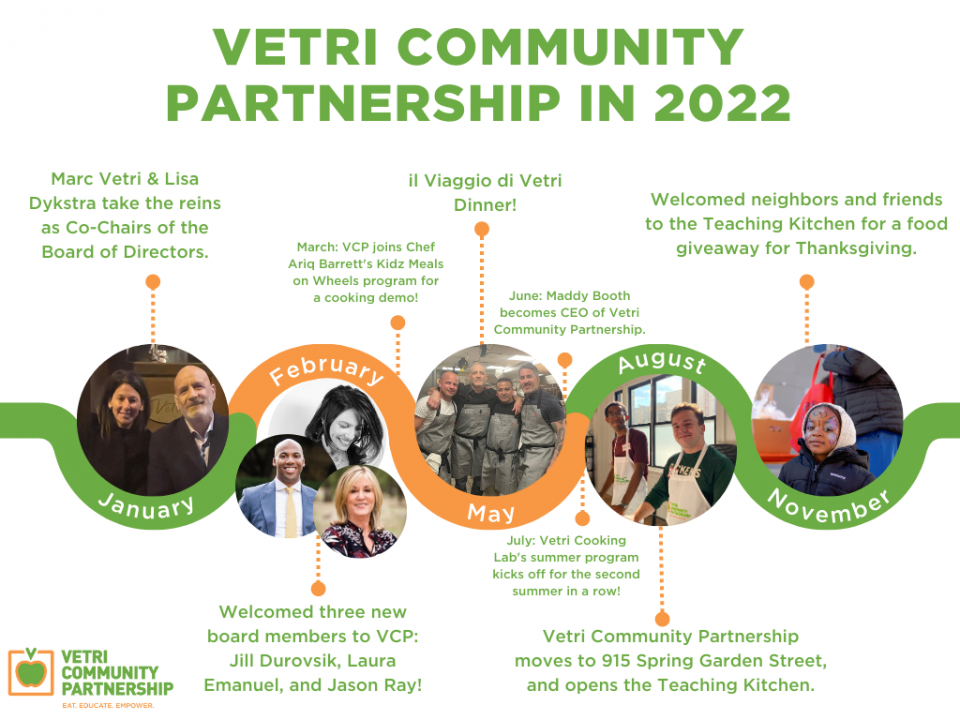 Early 2022 saw more leadership additions, with Jill Durovsik, Laura Emanuel, and Jason Ray joining the board of directors.
May 2022 was a huge month with the first ever il Viaggio di Vetri dinner at the Fitler Club, where co-founder and co-chair of the board of directors, Marc Vetri, brought three legendary Vetri Cucina alumni back together (Joey Baldino, Dinicio Jimenez, and Michael Solomonov) to cook a multi-course dinner for 100 guests. The event raised over $200,000 for culinary and nutrition education in Philadelphia.
Summer of 2022 launched the sophomore year of VCP's summer cooking program, and also saw a brand new headquarters and Teaching Kitchen for our organization at 915 Spring Garden Street.
In the fall of 2022, Vetri Cooking Lab launched with aplomb at 25 school sites, Culinary Medicine hosted students from Perelman School of Medicine in the Teaching Kitchen, and the Mobile Teaching Kitchen joined Novick Urban Farm for a series that resulted in this Garlicky Eggplant recipe.
In September, we published an opinion piece in the Philadelphia Inquirer about the importance of after-school and out-of-school time programs for providing safe places for kids to go in the hours after school.
October brought the Diced Challenge to the Teaching Kitchen, where three teams faced off in a cooking challenge inspired by the Food Network's Chopped. Chefs Marc Vetri, Jose Garces, and Kurt Evans, alongside CBS3's Vittoria Woodill, crowned Team Wok This Way the winner.
In November, we welcomed neighbors from the 19123 area code to the Teaching Kitchen for a Turkey Giveaway and Fall Festival, where 100 families received a Thanksgiving turkey and food boxes thanks to a donation from Acme Markets and Jaws Youth Playbook.
We are excited for the year to come! Thank you to everyone who made 2022 amazing by donating, volunteering, joining us in the classroom, and all the other ways you helped.